Psalmist Jamil Warren
Jamil Warren Ministries Inc.
A Phenomenal 16 year old Gospel Singer that celebrates 7 years in the music ministry. Jamil Warren lives in Pensacola,Florida and he is a faithful server at his church in Pensacola. Jamil is one of the main Praise Team leaders and he has been doing it for some time know. Jamil Warren birthed Jamil Warren Ministries Inc. Early 2003 Jamil Warren started out singing with the family group that he formed The Warren Singers. The Warren Singer did a lot of singing around the city but Jamil Warren had something inside of him that was bigger and greater. Jamil knew that God was calling him to be an Gospel Soloist and know Jamil Warren Ministries Inc. consist of a lot of things such as inspirational Blogs that you can read . he have an Fan Club Emailing list that anyone can join at jamilwarren@gmail.com (just email an you will be apart) Jamil Warren will also be doing a lot of things this coming summer. and we ask that you will join and support the things that God is doing with this ministry. And as Jamil kept being faithful he had the oppurtunity to sing in front of 3700 people possibility more at the Pensacola Saenger Theater he song their 3 times. he also had the oppurtunity to minister in song at the Foley,Alabama Civic Center. Jamil Warren is a Blessed young man and he will be doing a lot of things this coming summer and May 31, 2008 start the booking for the summer for Jamil Warren and we ask that you book him. we want him to be booked for the whole summer. Jamil Warren is a person who loves to support other ministries and he always love to be apart of things that support the things that God is doing with his people. Jamil Warren also have a friend name Barbara Andrews that does Professional Murals and she is an Awesome singer you can book her at imdartist@cox.net book Jamil Warren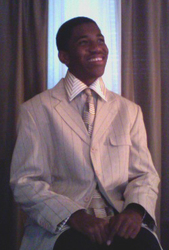 Jamil Warren Ministries Inc.
Contact: Booking & Manegment
jamilwarrrenministries@hotmail.com
Jamil Warren is a host on Blog Talk Radio of 2 shows.Juvenile Journal & his own independent show "Jamil Warren Youth Broadcast" Juvenile Journal Airs Every Monday at 5Pm Central Standard and Jamil Warren Youth Broadcast airs every Monday also at 4pm Central Standard.
www.blogtalkradio.com/juvenile-journal
www.blogtalkradio.com/jamil-warren
Gospel Singer Jamil Warren
Jamil Warren,will is available for bookings please Email us at the Email address at the top.God is doing several things with Jamil and he is tooken him to a new level and he is doing it more & more please support this young man of God send him a friends request on myspace and I promise you if your write him and you need him to him and he will help and anyway possible..Jamil love to Help & Encourage Others Jamil Warren Have An Emailing list if You Want to Join Email:jamilwarren@gmail.com and You Will Reieve an Answer.God Is Really Elevating us and Taking Us Higher In Him We Want God To get All The Glory Not Us.We Are Not Worthed He Is Worthy of The Glory,Honor,Praise,Majesty,Worship all of it and Some More..If You Had 10 Thousand Tounges You Still Couldnt Tell It All.God Has Really been Good To Us and Thats Why We Praise Him and lift Him Up for More Websites on Jamil Warren Go To Jamil Links.Thanks!!!!!!God Bless You
Love,Psalmist Jamil Warren
Please Purchase A Mural!
from Barbara Andrews you can contact her at imdaartist@cox.net Check Out Some of them on the next page "Pictures"
A Very Important Note!
JAMIL WARREN will be performing at Big The Magazine Music Festival and Empowerment Expo Concert.on March 7,2010 Come See him Live.we want everyone to know that Jamil Warren is availble for bookings contact us at jamilwarren@gmail.com